Professional Deck Construction in Portland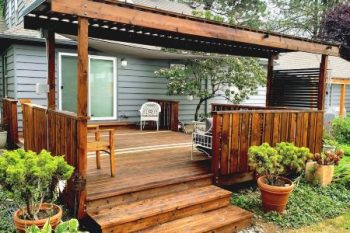 A beautiful deck can add tremendous value to any home in terms of cost and usefulness – not to mention increased curb appeal. The right deck allows you to enjoy your home outside as much as you enjoy it inside. It can be a place of entertainment and relaxation to enjoy your entire backyard experience. Our skilled and certified contractors can build the right deck for you and your home. With EvoSiding, you get a custom deck built to last. We design all of our custom decks based on your home and the surrounding outdoor space. We can help create an outdoor living space for your Portland home with a variety of different materials.
EvoSiding has the experience and craftsmanship to build you a deck that will last and that you and your guests can enjoy for years to come. Along with building gorgeous custom decks, we also provide Portland and the surrounding area with great siding for residential and commercial buildings, patios and patio covers, and window and door installations. Contact one of our professional contractors today and ask how we can set you up with a custom-built deck today!
Making A Difference in Decking
EvoSiding's team of deck builders has been creating custom-designed decks for well over a decade. Each one of our custom decks gets specifically built to withstand the full range of weather that we routinely see here in the Pacific Northwest. We make our decks based on the homeowner's vision and what they want most out of their backyard experience. Our contractors only use quality materials that meet our high standards of engineering and match the quality of our brand. We use beautiful natural cedar and vinyl composite materials for our decks. We guarantee that you'll love your home's brand new deck!
No matter which deck design you're looking for, we have it. We build a wide range of styles including premium wrap-around, bridge decks, and decks for U and L-shaped homes. We can also include railings and safety lighting systems. Our contractors can also create custom build-in features for new decks like seating and fire pits to further enhance the total experience. Ask one of our contractors how we can help design the perfect deck plan for you and your guests to enjoy!
Patios for Your Portland Home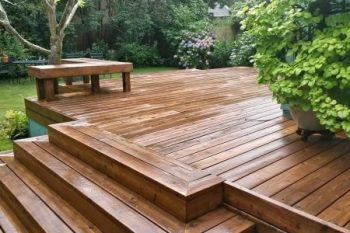 Along with expert deck construction, EvoSiding's skilled contractors can also create custom patios for your home. What's the difference between a deck and a patio? Patios are a covered area and can either be attached or detached from the home or sunken into the ground to give the space a more harmonious blend into its natural surroundings. Patios can also be either wood or stone, using the materials' natural beauty to give the area a rustic look and feel. For the Northwest, however, homeowners love having natural wood or composite materials for their patio. Whether you prefer natural wood options or low-maintenance composite decking, we have the expertise to make it look great.
Make EvoSiding Your Choice for Your New Deck
Our team of certified contractors can make your home look incredible, as well as make it stable and reliable for you and your family. We can offer deck building services, patio construction, siding installation and maintenance services, roofing services, along with windows and door installation. If you need outdoor structures built, count on us for excellent service and stellar construction.
Not only that, our experienced custom deck builders will keep you in the loop throughout the installation process. Part of every good construction project is ensuring the customer is satisfied. At EvoSiding, we stand by our work and provide only the best quality for your home. Want to know more about our custom deck options and patio covers for your Portland home? Call us today!
We Also Provide Custom Deck Construction In:
Lake Oswego | West Linn | Beaverton | Tigard
---