Patios & Decks
EvoSiding is a dedicated team of siding contractors and deck builders committed to the design, planning and construction of decks for any style of home.
Beautiful design coupled with craftsman-level installation. Our decks and patios look great and are built to last.
Outside style any way you want it. Our decks and patios are driven by the homeowners vision and always custom designed.
Enjoy the outside. Decks and patios provide the ultimate way to watch the kids play, entertain guests, or soak up the sun.
For homes looking to enhance their homes with any kind of outdoor area, EvoSiding brings premium wrap-around, bridge and custom-made decks to any property.
---
Decking By Design
Different homes need different decks. Depending on the style of your home, how you plan to use your deck, and the shape of your yard, the deck that works best can vary. Whichever you land on, any deck or patio can be customized to fit your specifications exactly.
EvoSiding offers across-the-board design consulting to guarantee your deck matches your vision. Here are a few deck types we build:
1. Wrap-Around
Wrap-Around decks are a classic style that work for just about any home with the space. For homes with unused square footage surrounding at least one corner of the home, these are the most common option.
Enjoy every side of your home.
Add a rail or safety lights.
Half or full wraps available.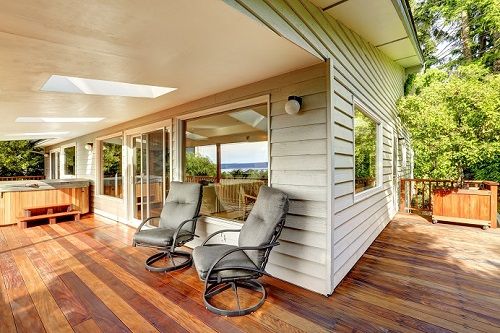 ---
2. Bridge
We call these "bridge" decks because they connect two entryways of a home. Typically found in homes with courtyard-centered U-shaped homes or the more common "L-Shaped" homes.
Our most classic deck style.
Perfect for outside entertaining and leisure.
Wood, composite decking, natural stone or stained concrete options available.
---
3. Side Stage
For those looking to convert unused space into a quiet, outside sanctuary – a small deck off to the side is the perfect way to include a tidy seating area while keeping the core of your yard intact.
Perfect for homes with extra space on the side.
Easily combined with existing deck styles.
Bridge two rooms or reserve to one.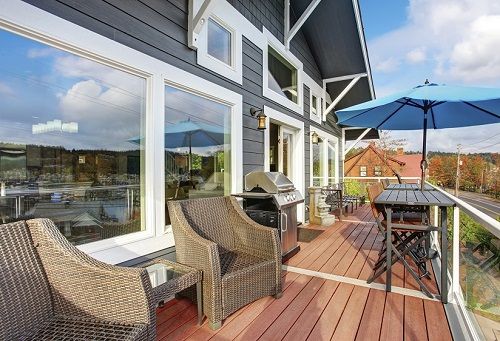 ---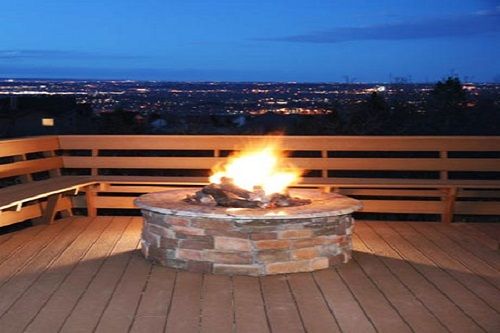 4. Custom Builds
Other possibilities for our clients include raised walkways, comfortable poolside options, and dedicated outdoor dining areas for entertaining and grilling. EvoSiding is happy to collaborate on design and make your ideas a reality.
Let your imagination run wild.
Build in seating or custom fire ring.
Ideal for homes with uncommon layouts.
---
Patios vs. Decks: How Are They Different?
When clients call us for a patio, most are thinking of a deck. But there are some key differences to be aware of:
Patios are covered.
Most of the patios that we provide are covered wooden structures that add usable space outside of the home. Like a deck, patios may be attached or unattached to the home, and can vary in where they are located on the property.
Patios may be stone.
Some homeowners may prefer to incorporate stonework into their patio for a rustic, western look. While the style works well for some homes, in Portland, we think composite or wood decking is the natural choice.
Patios can be sunken.
Unlike decks that sit elevated about the ground on a raised frame, patios can be sunken into the ground for a harmonious blend with the surroundings.
---
We Have Financing Available
EvoSiding is pleased to be able to provide financing for your new deck or patio.
Flexible payments make your deck or patio pain-free.
Our favorable rates are hard to beat.
Bundled financing available if we're doing more than your deck.
We want your new deck or patio to be a great experience. So if financing helps, then we want to be able to provide that to our clients.
---
Deckspertise
Our custom decks and patios are designed based on your home and the surrounding terrain. Whether your deck or patio is getting old, going bad, or you just don't have one where you want – EvoSiding is standing by enjoy hanging out at home in a brand new way.
For the deck of your dreams, schedule a free consultation today.
---
Other Exterior Enhancements Provided:
Siding | Windows | Roofing | Doors
EvoSiding builds decks & patios for the following cities: