Enjoy Your Patio Year-Round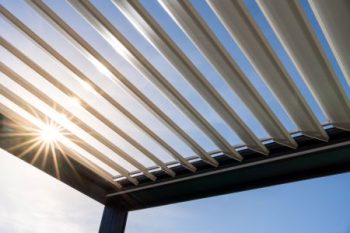 In the Pacific Northwest, homeowners see rain most of the year. The region's climate doesn't allow residents to enjoy their outdoor living space the way it's meant to be! If you have a patio in Portland that needs to be covered, contact the expert contractors at EvoSiding! For well over a decade, EvoSiding has been creating custom patio covers for Portland-area homes. We specialize in designing and constructing custom patio covers for residents in Portland, Lake Oswego, Tigard, West Linn, and Beaverton.
EvoSiding is Portland's choice for custom patio covers, patio and deck construction, residential and commercial siding, and more! From simple designs to more complex styles, our skilled team of contractors can make your design come to life. Contact one of our team members today and find out how we can help enhance your backyard space with a long-lasting product!
Custom Patio Covers for Your Outdoor Space
At EvoSiding, we take pride in our workmanship. We only use the highest quality of materials when building custom patio roofs, and our contractors are skilled in both design and construction. We will work with you to create a custom patio roof that fits the style of your home and provides the extra space you crave. Our goal is to provide you with a beautiful and functional product, and we are confident that we can exceed your expectations. Contact us today to get started on your custom patio roof project.
Not all patios have to be attached to the house. We can create freestanding covers that can work as a relaxing space or an add-on to the landscaping. Our contractors can work with many different durable materials; our favorite is sturdy wood, but we can also make aluminum and vinyl patio roofs.
Different Patio Cover Styles:

Solid Cover – Perfect for regions with heavy amounts of precipitation. It will completely cover your outdoor living space and protect you and your guests from the weather! Get more use out of your patio furniture than ever before.


Latticed Cover – Partial cover that can come in different shapes and sizes. Materials can be formed into various patterns and designs, giving it more appeal on top of the functional benefits.


Pergolas – Made of wooden or metallic beams that extend from supporting walls or columns, this cover offers unique shading and is popular to grow vines on.

These are just a few common options; whatever you want to do with your outdoor living spaces, whichever architectural style you're looking for, we'll help you find the perfect patio cover for your needs. These designs and many more will dramatically increase the aesthetic appeal of your property, giving you a more beautiful yard on top of the functional benefits of outdoor living spaces.
A covered patio is an excellent way for homeowners to entertain houseguests during any time of the year. Parties, BBQs, and family get-togethers can happen rain or shine with the right custom cover from EvoSiding. Aside from entertainment, these covers can serve plenty of uses. A beautiful cover can add tremendous value to any home. A patio cover is also an excellent choice for any restaurant or storefront to provide a lovely outdoor living space or dining area. There are so many advantages of patio shading we simply can't list them all!
Quality Patio Cover Installation and Service You Can Count On
EvoSiding is your choice for quality patio covers, residential and commercial siding, custom deck and patio construction, and more. When you pick EvoSiding to construct your custom patio cover, you get a cover made with excellent quality materials and unmatched customer service from experienced contractors. We make sure to provide your patio cover with top-of-the-line maintenance and coverage for the entirety of its lifetime.
Our team of service professionals has years of successful building projects behind us. We're dedicated to customer satisfaction and want to make your patio the most relaxing space possible. Call our team of professional contractors today and ask how we can enhance your home with the perfect patio cover!
We Also Create Beautiful Patio Covers In:
West Linn | Tigard | Beaverton | Lake Oswego
---