Beautiful Covers For Your Home's Patio!
Patio covers can help transform your home from being plain and unoriginal to being unique and uplifting! By halting the elements and providing shade, a great new addition for your home adds more living space outside of your home for you, your family, and your friends to enjoy. Whether it's for a place to lounge and relax outdoors or a place to entertain guests, it needs to be the perfect style for whatever you intend to use the space for. At EvoSiding, we can help create your custom outdoor area cover. With 15 years of experience in the industry, we are skilled in creating the most beautiful covers for your home's patio area. As the experts in this industry, we strive to bring you the best craftsmanship and quality for your new outdoor patio cover!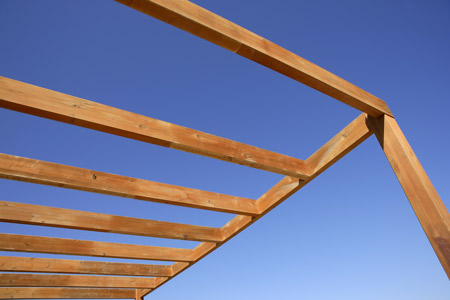 Different Styles of Covers
When you are considering a new patio cover for your home's outdoor area, it's important to consider what kind of material to use for it. There are several different types of materials that are available for use and they can be used for several different styles. Ask us to come give your outdoor area a look and an estimate for your new cover! Here are several types of material and styles for your cover:
Vinyl: Vinyl is becoming an increasingly popular choice for patio covers. A strong, durable material, this PVC-based product can last for years. It's also weatherproof and rustproof, so there's no worry about the weather or water ruining your vinyl cover.
Wood: Wood is the most classic choice when it comes to your new outdoors addition. With so many variations of wood out there, there's endless possibilities for the style and look of your new cover. You can pick any style of wood and paint it and finish it with any color, giving you, the homeowner, full ownership of the customization of your new addition. It's important to remember that wood can be easily susceptible to rot and decay if not treated correctly.
Aluminum: Metal is a popular option to wood, with the most typical metal utilized for this purpose being aluminum. It's strong, light-weight, doesn't rot and extremely effective at reflecting heat away from your patio area. Aluminum patio area covers can, however, become damaged due to falling particles. The bottom line is that if you're going to select an aluminum outdoor patio cover, make sure there are no overhanging tree limbs.
Different Cover Options:
Solid: For people who live in places with heavy rainfall, a solid patio cover may be the best choice due to its ability to completely cover the entire area and provide comfortable space, even in inclement weather.
Lattice: These are partial covers that can come in many different shapes, sizes, and styles for your patio area. Lattices can be made in different designs that create an atmosphere of uniqueness and elegance.
Pergolas: Comprised of wood or metal beams that extend from the supporting walls or column. As the light falls, pergolas develop an intimate environment with fascinating shade.
Your Outdoor Cover Experts!
Call EvoSiding today for an estimate for your outdoor area! We can provide your home with a beautiful new patio cover, made with excellent materials and with beautiful craftsmanship. Call us today!
EvoSiding proudly serves all of the following areas:
Portland | Vancouver | Clackamas | Beaverton | Damascus | Lake Oswego | Tigard | West Linn | Camas