We Are Your Local Siding Contractor Company In Lake Oswego, OR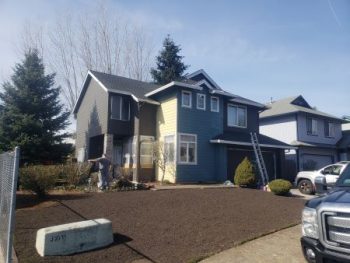 At EvoSiding, our team continuously strives to be the leading provider of residential and commercial siding services in Vancouver, WA, and the surrounding areas. With our commitment to honesty, quality craftsmanship, and unparalleled customer satisfaction, we have been the trusted choice for home and business owners seeking superior siding solutions since our establishment in 2013. We are proud to offer a wide range of services, including siding repair, installation, and replacement. And for all of these services, we utilized the most high-quality siding materials, including metal siding, James Hardie fiber cement siding, cedar siding, and a variety of other wood siding options. Don't hesitate to give us a call for a free estimate on your next project!
Specializing in James Hardie Siding: Unleash the Power of Durability and Beauty
At EvoSiding, we understand the significance of choosing the right siding for your property. That's why we are proud to specialize in James Hardie Siding, a renowned name in the industry. James Hardie siding combines durability, versatility, and unmatched aesthetics to protect and enhance your home or commercial space. Say goodbye to the days of your vinyl siding fading and warping and hello to the peace of mind and energy efficiency that durable siding from James Hardie brings to your property.
Our Expert Siding Services Enhance Your Property Inside and Out
Whether you're looking to revamp your residential property or upgrade your commercial building, EvoSiding offers a comprehensive range of services to meet your siding needs. Our skilled team of professionals is equipped to handle projects of any scale, ensuring exceptional results every time.
Residential Siding Services
With our residential siding services, we help you create a captivating exterior that not only increases curb appeal but also offers long-lasting protection. We understand that many homeowners struggle with the annoying complications of vinyl siding issues or improper installation from other contractors, which often results in a subpar finished product. When you work with EvoSiding, you can rest assured that all of your siding repairs and siding replacements will be completed with precision and attention to detail. From consultation to installation, we guide you through the entire process, ensuring your vision is brought to life.
Commercial Siding Services
Your business deserves a professional and visually appealing facade that makes a lasting impression. EvoSiding's commercial siding services cater to the unique needs of businesses, providing durable and eye-catching siding solutions.
We proudly provide a variety of siding services for different types of commercial properties, including:
Apartment Buildings
Storefronts
Multi-Family Buildings
Warehouses
Restaurants
And More
We work closely with you to understand your branding and architectural requirements, delivering results that elevate your commercial space.
We Are The Siding Installation Professionals You Can Rely On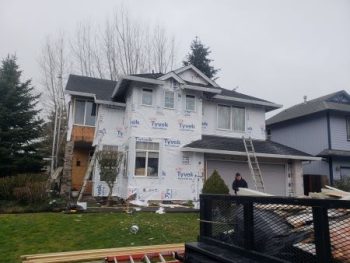 When it comes to your siding, we believe that the quality of the product is critical to our customers. At EvoSiding, we only use professional-grade siding materials for our projects. Our siding contractors have professional training on the proper methods of installing the different types of siding. Whether you're looking for an upgrade to your current siding material or looking to replace it with the same style, our team of siding specialists can install brand-new siding on your home in a timeframe that works for you!
We believe that your siding should be durable enough to withstand the elements that your property faces in the Pacific Northwest, as well as give your home an identity. Homeowners should be able to take pride in the way their house looks. That, of course, includes its siding. Choose the perfect siding for your home and let out siding contractors take care of installation, repairs, and replacement for the lifetime of the siding!
Your Search For A Siding Contractor Near Me Is Over
As a locally owned and operated siding contractor near Lake Oswego, OR, EvoSiding takes pride in serving our community with the highest standards of professionalism and integrity. Our team of experts is dedicated to delivering excellence in every project we undertake. From the initial consultation to the final inspection, we prioritize open communication, transparency, and a strong work ethic.
At EvoSiding, customer satisfaction is at the heart of everything we do. We understand that investing in new siding is a significant decision, and we strive to exceed your expectations at every turn. Our knowledgeable team is here to answer your questions, address your concerns, and guide you through the process, ensuring your complete satisfaction from start to finish. Give us a call today to get started!
EvoSiding
Frequently Asked Questions About Siding Contractor in Lake Oswego, OR:
What is siding, and why is it important for my home? Siding is the exterior material applied to the walls of a house or other building meant to shed water, protect the walls from the effects of weather, insulate, and enhance the appearance of the structure. It plays a crucial role in shielding your home from external elements, providing thermal insulation, and enhancing curb appeal.
What are the different types of siding materials? Common siding materials include vinyl, wood, fiber-cement, metal (like aluminum or steel), stucco, brick, and stone. Each has its own set of advantages, aesthetics, and price points.
How long does it take to install siding? Installation times can vary based on the size of the project, weather conditions, and type of siding being installed. On average, siding a home can take anywhere from a few days to a few weeks.
Take a look at our Gallery page to see some of the projects we have done!
EvoSiding Is Proud To Be Locally-Owned And Operated
Nestled within the enchanting city of Lake Oswego, OR, where each corner unfolds a story of nature's magnificence and architectural artistry, sits EvoSiding—a beacon of local expertise and dedication. As the shimmering waters of Foothills Park play muse and the verdant expanses of Cooks Butte City Park beckon, we, at EvoSiding, take a moment to absorb, to be inspired. Each siding project we undertake is infused with the same charm that radiates from the serene pathways of Waluga Park – East.
Being a locally-owned siding company, our connection to Lake Oswego runs deep. We understand the pride residents take in their homes, mirroring the pride they feel for their city's iconic landmarks. Our mission is more than just providing robust siding solutions; it's about crafting an exterior that's harmonious with the surrounding beauty, making your home an extension of the natural tapestry that is Lake Oswego.
By aligning with EvoSiding, you're not just opting for a service; you're choosing a partner that values and cherishes the local landscape as much as you do. Let us transform your home's exterior into a tribute to Lake Oswego's cherished attractions, marrying durability with the serene elegance of the city's most beloved parks. With EvoSiding, your home becomes a canvas, echoing the heartbeats of Lake Oswego's pristine wonders. Directions To EvoSiding
Your Search For A Siding Contractor Near Me Is Over
Tucked within the scenic embrace of Lake Oswego, OR, EvoSiding stands as an emblem of local craftsmanship and dedication. Not only renowned for our prowess as siding contractors, but our expansive range of offerings, from meticulous siding installation to diligent repair, also positions us as trusted pillars in the architectural realm of the city.
Lake Oswego is a harmonious blend of natural allure and urban convenience, and we, at EvoSiding, reflect this harmony in our work and ethos. Our proximity to vital transit lifelines such as the iconic Lake Oswego Depot and the vibrant Lake Oswego Transit Center ensures that our clients can effortlessly integrate their home enhancement pursuits into their daily commutes and routines. This strategic location not only offers practical benefits but also symbolizes our commitment to being an accessible and integral part of the community.
As you navigate through Lake Oswego's streets, feel the city's pulse, its seamless blending of heritage and modernity. In the same vein, EvoSiding seeks to offer homes a facade that complements the city's unique spirit. Our mission transcends the mere provision of siding services; we aim to be a cornerstone in constructing a cityscape that's both timeless and forward-looking.
So, when you think of merging architectural brilliance with the ease of urban connectivity, think EvoSiding. Let's shape a Lake Oswego that resonates with beauty, function, and the rhythm of communal living. Transit Directions To EvoSiding
We Work In Many Neighborhoods Throughout Lake Oswego, OR, Including:
97035 97034 97219 97062 97224 97036 97281 97268 97223 97079 97008 97269 97267 97239 97222 97078 97068 97221 97298 97202 97027 97075 97076 97077 97225 97201 97005
Check Out Some Of Our Reviews From Local Customers!
"We had all of our windows replaced. We used Evo before, and hired them again. Jason provided several options for us to choose from and installers were amazing. They cleaned up every day and kept the job site clean and safe. We are already seeing cost savings. Thank you Evo!"-Alex S.
"We are so happy with our new siding, gutters, and storm windows from Evo. Jason was very responsive and extremely detailed in his communications. Evo were able to do all the necessary repairs before the siding and took care of getting …"-Christopher W.
Read More Reviews Here
Our Team Proudly Offers A Wide Range Of Siding Services, Including:
Siding Contractor
Siding Installation
Siding Repair
Commercial Siding Replacement
Commercial Siding Installation
About Lake Oswego, OR
Lake Oswego, Oregon, nestled in the embrace of the Pacific Northwest, is a city where nature's serenity meets urban sophistication. A stone's throw away from the bustling metropolis of Portland, Lake Oswego is a tranquil retreat characterized by its shimmering namesake lake, tree-lined streets, and charming neighborhoods.
At the heart of the city lies the pristine Lake Oswego, a magnet for boaters, fishermen, and those looking to soak in its mesmerizing sunsets. Around its shores, upscale homes reflect the affluence and architectural elegance for which the city is known.
Beyond the lake, Lake Oswego boasts a rich tapestry of parks and green spaces. From the rolling hills of Iron Mountain Park to the peaceful trails of Tryon Creek State Natural Area, the city is a haven for outdoor enthusiasts. Culture and arts thrive here too, with boutique galleries, local theaters, and seasonal festivals celebrating the city's vibrant community spirit.
Historic neighborhoods, like Old Town, tell tales of Lake Oswego's storied past, while modern shopping districts and gourmet restaurants showcase its contemporary flair. The city is not just a residential paradise but also a hub for businesses, schools, and community endeavors.
In essence, Lake Oswego is a harmonious blend of natural beauty, urban amenities, and a close-knit community. Whether you're gazing at reflections on the lake, exploring its rich cultural scene, or mingling with its warm residents, Lake Oswego invites you to experience the Pacific Northwest at its finest.
Directions To EvoSiding