We're Your Go-To Siding Repair Company In Vancouver, WA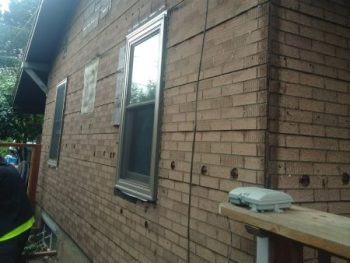 At EvoSiding, we understand the importance of a properly functioning siding system for the protection and curb appeal of your home. As a trusted and affordable siding contractor in Vancouver, WA, we offer professional siding installation, replacement, and repair services that can address any damage or issues, ensuring your home remains well-protected. With a wide range of siding options available, including James Hardie Siding, cedar siding, and more, we're confident we'll be able to find a solution that works for you! Since 2013, our team has maintained a commitment to providing exceptional craftsmanship. Give us a call today for a free estimate, and our team will provide you with an inspection to determine what repairs are necessary.
Upgrade the look of your home with a beautiful and durable James Hardie fiber cement siding replacement project!
Our Siding Packages: Unrivaled Quality Backed by Warranties
At EvoSiding, we believe in providing our clients with peace of mind and long-term value. That's why here at EvoSiding, we pay extra close attention to what most other siding contractors ignore, the Weather Resistant Barrier. The Weather Resistant Barrier is the last line of defense, and it should be a strong one. Our extensive knowledge of proper Weather Resistant Barrier installation will bring you peace of mind for years to come. Learn more by contacting one of our knowledgeable sales consultants.
Our siding packages come with comprehensive warranties. Choose from our 15-year or 30-year warranty options, knowing that your investment is protected. With our quality siding materials, meticulous craftsmanship, and warranty coverage, EvoSiding ensures your siding will withstand the test of time.
James Hardie, Metal and Wood Siding Repair
Wood siding, specifically cedar plank siding, is still the standard for home siding. Wood siding gives the home a beautiful, natural look that you won't find with other siding options. When we install or repair the wood siding on your home, we can also treat it with anti-fungal properties to help prevent future dry rot, something prevalent in the Pacific Northwest. Wood siding can help better insulate your home and is a great durable siding option.
Metal and James Hardie siding are also great options for your home or business, offering exceptional durability. Our team specializes in repairing all types of siding, from old age and water intrusion to construction defect repair; EvoSiding has you covered. 
Benefits of Having Your Siding Repaired
Repairing damaged siding offers numerous benefits for your home and your peace of mind. Here are a few key advantages:
Enhanced Protection
Siding acts as a protective barrier against the elements, shielding your home from moisture, wind, and other environmental factors. By repairing damaged siding promptly, you can prevent water intrusion, mold growth, and potential structural damage. Maintaining a well-protected exterior contributes to the longevity of your home and reduces the risk of costly repairs down the line.
Improved Energy Efficiency
Damaged or deteriorating siding can compromise the insulation of your home, leading to energy loss and higher utility bills. By repairing or replacing damaged sections of siding with high-quality materials, you can improve the energy efficiency of your home, reducing heating and cooling costs and creating a more comfortable indoor environment.
Aesthetic Appeal
Siding plays a significant role in the curb appeal of your home. Damaged or worn-out siding can detract from the overall aesthetics and lower the value of your property. By getting the necessary repairs, you can get the beautiful siding that will restore the look of your home's exterior, enhancing its visual appeal and potentially increasing its market value.
Working with an Experienced Siding Company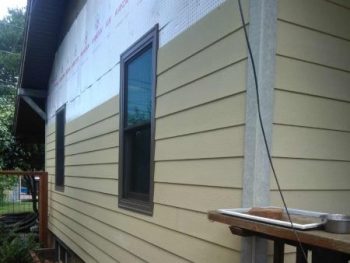 When it comes to siding repair, it is crucial to work with an experienced and reputable siding company like EvoSiding. Our team of professionals has extensive knowledge of various siding materials, including James Hardie fiber cement siding, wood siding, metal siding, and more. We understand the unique characteristics and requirements of each material, allowing us to provide tailored solutions that meet your specific needs.
Choosing EvoSiding for your siding repair ensures that you receive professional service, quality craftsmanship, and exceptional customer care. Our experienced technicians will assess the extent of the damage, recommend the most appropriate repair techniques, and execute the repairs with precision. We prioritize open communication, keeping you informed throughout the process, and addressing any concerns or questions you may have.
Stop Your Search For Siding Repair Near Me. Call EvoSiding Today
Maintaining a well-functioning and visually appealing exterior siding system is crucial for the protection and aesthetics of your home. EvoSiding offers professional siding repair services to address any damage or issues, ensuring that your home remains well-protected and visually appealing. With our experienced team and commitment to exceptional craftsmanship, we strive to deliver outstanding results that exceed your expectations. Contact EvoSiding today to schedule a consultation and let us restore the integrity and beauty of your home's exterior.