Give Your Home The Siding It Deserves
Financing Offered, Payments Starting As Low As $99/Month
Siding Contractor Vancouver WA
HOW OUR PROFESSIONALS AT EVOSIDING WORK
INSPECTION

Our team has seen all too well the negative impacts that improper installation can have on your siding, which is why every one of our jobs begins with a thorough inspection of anything that could contribute to product failure. This step guarantees your siding stays in place and its installation isn't undermined by internal structural failures such as dry rot or pest damage.
ACCESSORIES

Before the siding installation begins, our certified carpenters install a brand-new, top-of-the-line weather-resistant barrier. This WRB Layer is the most crucial aspect of the installation process as it protects against water intrusion, helping prevent structural damage. A properly installed Weather Resistant Barrier will ensure your new siding endures and stays in place.
INSTALLATION

After we confirm your home's frame is in good shape, our team will begin the installation process. The time it takes to complete siding projects depends on the size of the property, the type of siding used, and the home's condition. A typical installation takes anywhere from 2 days to around a week.
Financing Offered, Payments Starting As Low As $99/Month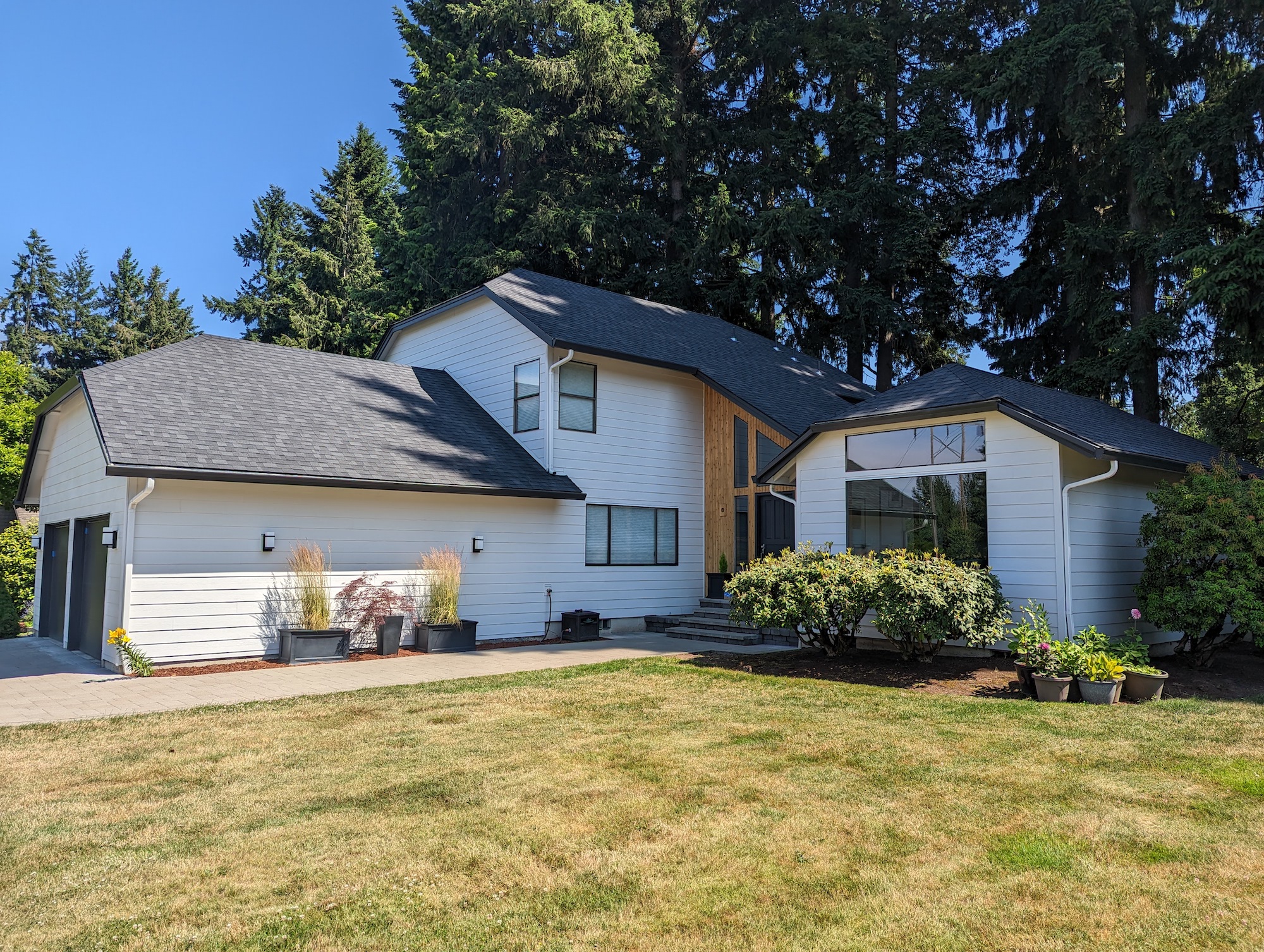 We Are Your Go-To Siding Company In Vancouver, WA
At EvoSiding, our team of siding professionals specializes in elevating your home or commercial property with the highest quality siding services to boost your curb appeal, enhance your energy efficiency, and ensure your total satisfaction with the finished product. We are proud to be a locally-owned and operated siding company in Vancouver, WA, offering a wide range of services, including siding replacements, siding repairs, and new siding installations. Since 2013, we have made it our goal to provide the exceptional customer service and dependable workmanship that our customers have come to rely on.
EvoSiding Always Evolving
We have formed lasting relationships with the nation's top manufacturers of WRB systems, and we have been certified by them on the proper installation of their products. Ensuring that all manufacturer's warranties will be sound and uncompromised. We have also absorbed a lot of knowledge from engineering firms that specialize in proper waterproofing of the building's exterior. Our background in commercial and government work will enhance your property's protection against all the elements the Pacific Northwest has to throw at it. Don't settle for only half the story that our competitors advertise. The home's ENVELOPE SYSTEM is a major player in keeping you from spending thousands of dollars on repairs and wasted energy consumption.
Transforming Homes and Businesses with Premium Siding Solutions in Vancouver, WA
EvoSiding's siding installation team can install any type of siding materials for your home or business. James Hardie, wood, and metal are all types of siding that we excel in. Our team can help you discover the best type of siding to fit your budget, style preferences, and other unique needs. Home and business owners often have different ideas regarding the color, material, and cost of their siding. Our team at EvoSiding has experience working on residential and commercial properties to help achieve the perfect siding solution. Ask one of our experts about the benefits of each of these siding types!
SPECIALIZING IN JAMES HARDIE SIDING, WOOD, METAL, AND FIBER CEMENT SIDING
Our team of certified installers can make your home look incredible, as well as make it strong and reliable for you and your family. We are able to offer siding installation and repair services, residential and commercial roof replacement & roof installation, Window installation & window replacement. One of our knowledgeable Sales Representatives can come to your home for a thorough inspection of your current siding situation and make a professional recommendation. At EvoSiding, we stand by our work and provide only the best quality for your home.
Check Out Our Work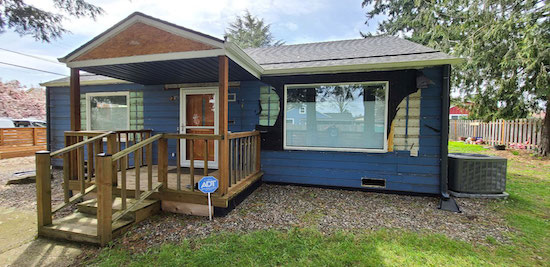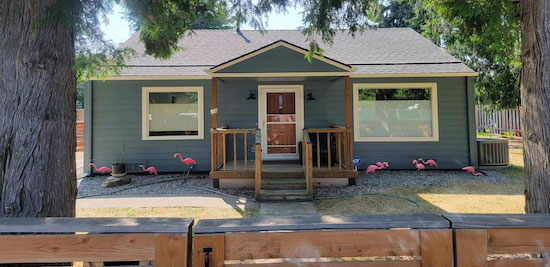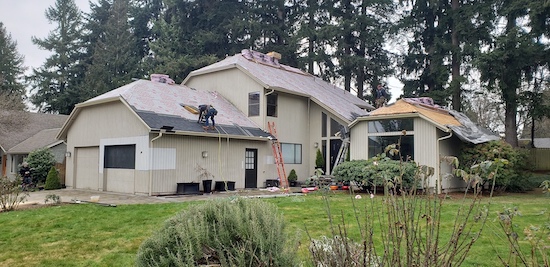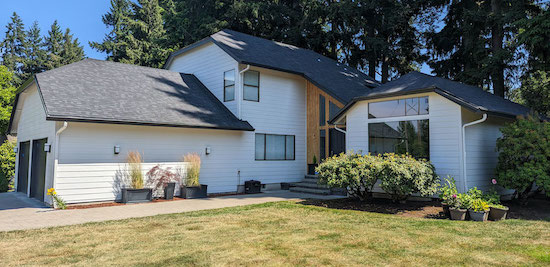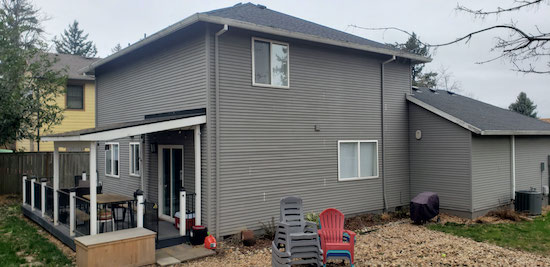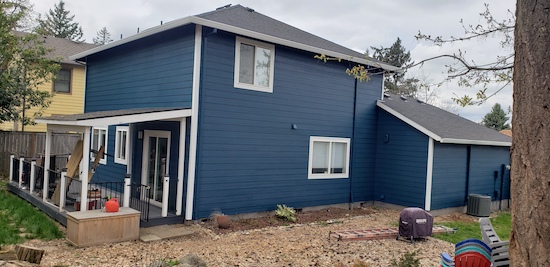 The Dangers of Improper Installation
EvoSiding does what nearly all other siding contractors ignore, we focus on the building's entire exterior package, mainly the waterproofing system that is behind the siding. Also known as the WRB LAYER (weather-resistant barrier), this system is the protection that is not seen. It is hidden behind the exterior cladding and is often overlooked by other siding contractors.
With new products and practices being developed all the time, our team of professional siding installers continues to stay up to date with all the knowledge and experience necessary to install your siding systems properly. Our years of experience with engineering firms and product manufacturers of the WRB SYSTEMS gives you, the homeowner, an edge above every other siding contractor in the Pacific Northwest. Don't be sold short by flashy exterior colors and warranty gimmicks. Contact real experts with true knowledge in the protection of homes and commercial buildings from leaks and rot. Schedule a full exterior consultation with us today.
Stop Searching For A Siding Contractor Near Me Call EvoSiding Today
At EvoSiding, we believe that a home should be both beautiful and strong. That's why we offer top-notch exterior siding repair, installation, and replacement services utilizing quality materials that not only make your home look incredible but also ensure that it's reliable for you and your family. With our team of certified installers, you can trust that your siding needs are in expert hands. We prioritize energy efficiency and customer satisfaction, making sure to provide the best quality service at an affordable price. Contact us today for a thorough inspection of your siding and a professional recommendation that meets your unique needs. At EvoSiding, we stand by our work and our commitment to ensuring you have beautiful siding that will stand the test of time.
James Hardie Siding
Fiber cement siding is our most recommended siding option for Pacific Northwest homes. It offers durable and elegant-looking siding that will last in harsh winter weather and consistent rainfall. At EvoSiding, we prefer to use high-quality fiber cement siding from one of the top names in the industry, James Hardie. Their fiber cement siding is rigorously tested and specifically designed to survive the elements. The Hardie Plank design comes in a range of different styles for aesthetic flexibility. All James Hardie siding products that we sell come with a 30-year transferable warranty.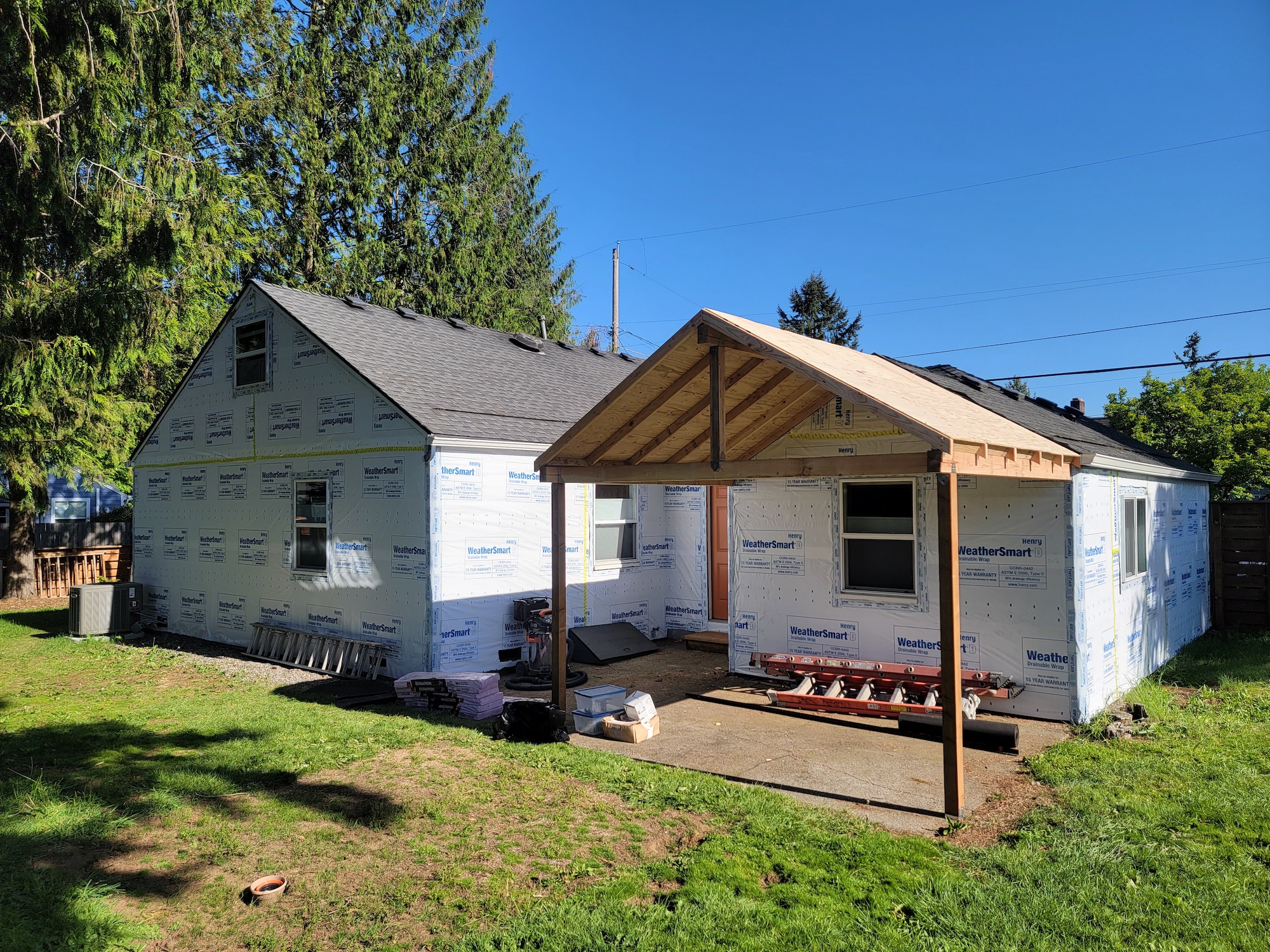 What Our Clients Say
I feel very fortuitous to have had the opportunity to team up with Illy and Jason from EvoSiding. They took care of my house's new siding and paint job with professionalism, and they're just genuinely delightful people to be around. They've turned my place into the most vibrant one on the block. If you're after excellent results and a team that makes the process enjoyable, EvoSiding is definitely the way to go! 😺✨
I was selling a house. Some vinyl siding was damaged shortly before closing. Arthur and Eli worked miracles to find a pack of compatible siding, install it, and paint to match, getting it done to buyer's approval.
I worked with the Evo team on the fire station remodel project in Longview. They worked well under pressure of an operating fire station and with many subcontractors. We had several change orders come up due to unforeseen building condition, which they came to us with a reasonable price to fix. The final product looks great. I would work with Ilya and the team again in the future.
I worked with Arthur on a siding project at my house. Arthur and the installation team were very responsive and worked with my schedule. The work turned out great, I would definitely recommend evosiding to anyone that is looking to get help with their exterior home improvement projects.
Great Job!! Im very satisfied 🙂
Very happy with final result and installation of windows, doors, siding and roof. I am amazed at the quality of windows and the installers who were experts and did not do anything less than expertly. We did not have to clean up anything from inside our house or in yard. I recommend EVO based on their above average doors and windows, and especially the employees they hired for final measurement and installation.
I use EvoSiding on a few of my home for siding and windows replacement, always did a great job and gave me a fair price. I would recommend them to anyone looking to replace siding or windows on their home.
Eli and Jason were great to work with! So glad we chose them for our siding project. The results were absolutely fantastic! Eli and his team completely transformed our house. Can't say enough good things about the experience.
EvoDesign did a great job on our back yard hard scaping, they designed and installed multiple terraces and stairways. I would recommend Evo to anyone looking for a professional and quality contractor
Arthur was fantastic. Their response and caring was above and beyond. We had a bad situation with an existing window installation company and Evo / Arthur jumped in to help immediately. Within 1.5 hours of talking it over they were at our house taking a look at the project. They sent us a quote that night. Which after receiving about 4 different quotes, they were very reasonable middle of the ground cost and very close to what the original quote had been from the failed installers. They were even open to sharing their quote with our "problem company" as proof of oir demands. This is a lot to accept for a company not involved in my problem! Even though we are still resolving our issue with this problem company, will definitely be using Arthur and EVOsiding in the future. We also very much appreciate the peace of mind and information they provided.
EvoSiding
Frequently Asked Questions About Siding Contractors in Vancouver, WA:
What does a siding contractor do? A siding contractor specializes in the installation, repair, and replacement of exterior siding on buildings.
Why should I hire a professional siding contractor instead of doing it myself? Professional siding contractors have the experience, tools, and knowledge to ensure proper installation, which can increase the lifespan of the siding, enhance energy efficiency, and maintain the aesthetic appeal of your property.
How long does the siding last? The lifespan of siding varies depending on the material. Vinyl siding can last 20-40 years, while fiber cement can last 50 years or more. Regular maintenance can also extend the life of the siding.
Take a look at our Gallery page to see some of the projects we have done!
EvoSiding Is Proud To Be Locally-Owned And Operated
Nestled in the vibrant city of Vancouver, WA, EvoSiding is not just another siding company; it's a testament to the spirit and dedication of our local community. Just as landmarks like the Fort Vancouver National Historic Site resonate with tales of our region's rich history, EvoSiding echoes a commitment to safeguarding homes with exceptional quality and craftsmanship.
As you walk across the majestic Vancouver Land Bridge or meander along the picturesque Waterfront Renaissance Trail, you're experiencing the essence of Vancouver—a blend of history, nature, and innovation. This same essence is reflected in every project EvoSiding undertakes. As a locally-owned business, our roots run deep. Our understanding of Vancouver's unique architectural heritage, combined with modern design sensibilities, ensures that every home we touch resonates with both past and present.
When you choose EvoSiding, you're not just opting for top-tier home exteriors. You're investing in a team that cherishes Vancouver's landmarks as much as you do, intertwining the art of home improvement with the soul of our beloved city. With EvoSiding, your home becomes a part of Vancouver's ongoing story—a blend of tradition, elegance, and innovation. Directions To EvoSiding
Your Search For A Siding Contractor Near Me Is Over
Centrally situated in the bustling city of Vancouver, WA, EvoSiding stands as a beacon of home exterior excellence. Specializing in Siding Contractor services, Siding Installation, and Siding Repair, we take pride in transforming homes with unparalleled finesse and precision. Our deep-rooted commitment to the local community mirrors the connectivity of our city's vital bus hubs. Whether you're stepping off at the Fisher's Landing Transit Center, catching a connection at Vancouver Mall Transit Center, or hopping on a route at Mill Plain & Ft Vancouver, Wa, know that EvoSiding's top-tier services are conveniently within reach. As we enhance Vancouver's homes, we celebrate the ease of movement and accessibility our beloved bus stops provide. Choose EvoSiding, where local expertise meets local connectivity. Transit Directions To EvoSiding
We Work In Many Neighborhoods Throughout Vancouver, WA, Including:
98661 98687 98668 98666 98663 98665 98664 98662 98660 98685 98686 98684 98683 97211 97218 97217 97203 97252 97250 97212 97220 97227 97213 97232 97209
Check Out Some Of Our Reviews From Local Customers!
"Very happy with final result and installation of windows, doors, siding and roof. I am amazed at the quality of windows and the installers who were experts and did not do anything less than expertly. We did not have to clean up anything from inside our house or in yard. I recommend EVO based on their above average doors and windows, and especially the employees they hired for final measurement and installation."-Natalia T.
"I worked with Arthur on a siding project at my house. Arthur and the installation team were very responsive and worked with my schedule. The work turned out great, I would definitely recommend evosiding to anyone that is looking to get help with their exterior home improvement projects."-Michael C.
"We had a great experience with Evo. They came out, Ilya gave us an estimate & worked with our timeline . When it came time for installation, Ilya did a fantastic job. We love our new patio door! Evo is a great company to work with and I would recommend them!"-Alex S.
Read More Reviews Here
Our Team Proudly Offers A Wide Range Of Siding Services, Including:
Siding Contractor
Siding Installation
Siding Repair
Commercial Siding Replacement
Commercial Siding Installation
About Vancouver, WA
Nestled along the north bank of the mighty Columbia River, Vancouver, WA, is a gem that seamlessly blends the allure of history with the vibrancy of modern living. As the fourth-largest city in Washington State, Vancouver has firmly rooted itself not just as a neighboring city to Portland, Oregon, but as a standalone hub of culture, commerce, and community.
A walk through the city offers a journey back in time, with the Fort Vancouver National Historic Site serving as a poignant reminder of the area's rich tapestry of indigenous cultures and early European settlements. But Vancouver isn't solely anchored in the past. The city is also a bustling modern metropolis, teeming with eclectic eateries, innovative businesses, and a burgeoning arts scene.
The beauty of the Pacific Northwest is on full display here. From the serene waterfronts that beckon nature lovers to the lush green parks scattered throughout the city, Vancouver is a haven for those seeking outdoor adventures or a tranquil retreat.
Local events, from farmers' markets to art festivals, breathe life into the streets, ensuring that there's always something happening. The diverse population enriches the community, bringing together a blend of traditions, cuisines, and stories that make Vancouver a melting pot of experiences.
Whether you're drawn by its historical allure, the promise of economic opportunities, or the sheer beauty of its landscapes, Vancouver, WA, stands as a testament to the multifaceted charm of the Pacific Northwest.
Directions To EvoSiding