We Are Your Local Siding Contractor Company In Portland, OR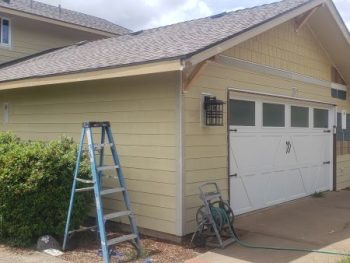 At EvoSiding, our team continuously strives to be the leading provider of residential and commercial siding services in Portland, OR, and the surrounding areas. With our commitment to honesty, quality craftsmanship, and unparalleled customer satisfaction, we have been the trusted choice for home and business owners seeking superior siding solutions since our establishment in 2013. We are proud to offer a wide range of services, including siding repair, installation, and replacement. And for all of these services, we utilized the most high-quality siding materials, including metal siding, James Hardie fiber cement siding, cedar siding, and a variety of other wood siding options. Don't hesitate to give us a call for a free estimate on your next project!
Specializing in James Hardie Siding: Unleash the Power of Durability and Beauty
At EvoSiding, we understand the significance of choosing the right siding for your property. That's why we are proud to specialize in James Hardie Siding, a renowned name in the industry. James Hardie siding combines durability, versatility, and unmatched aesthetics to protect and enhance your home or commercial space. Say goodbye to the days of your vinyl siding fading and warping and hello to the peace of mind and energy efficiency that durable siding from James Hardie brings to your property.
Our Expert Siding Services Enhance Your Property Inside and Out
Whether you're looking to revamp your residential property or upgrade your commercial building, EvoSiding offers a comprehensive range of services to meet your siding needs. Our skilled team of professionals is equipped to handle projects of any scale, ensuring exceptional results every time.
Residential Siding Services
With our residential siding services, we help you create a captivating exterior that not only increases curb appeal but also offers long-lasting protection. We understand that many homeowners struggle with the annoying complications of vinyl siding issues or improper installation from other contractors, which often results in a subpar finished product. When you work with EvoSiding, you can rest assured that all of your siding repairs and siding replacements will be completed with precision and attention to detail. From consultation to installation, we guide you through the entire process, ensuring your vision is brought to life.
Commercial Siding Services
Your business deserves a professional and visually appealing facade that makes a lasting impression. EvoSiding's commercial siding services cater to the unique needs of businesses, providing durable and eye-catching siding solutions.
We proudly provide a variety of siding services for different types of commercial properties, including:
Apartment Buildings
Storefronts
Multi-Family Buildings
Warehouses
Restaurants
And More
We work closely with you to understand your branding and architectural requirements, delivering results that elevate your commercial space.
We Are The Siding Installation Professionals You Can Rely On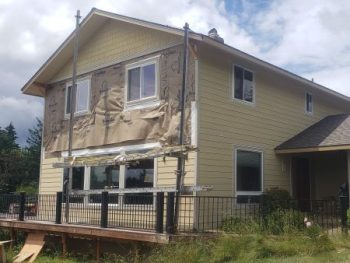 When it comes to your siding, we believe that the quality of the product is critical to our customers. At EvoSiding, we only use professional-grade siding materials for our projects. Our siding contractors have professional training on the proper methods of installing the different types of siding. Whether you're looking for an upgrade to your current siding material or looking to replace it with the same style, our team of siding specialists can install brand-new siding on your home in a timeframe that works for you!
We believe that your siding should be durable enough to withstand the elements that your property faces in the Pacific Northwest, as well as give your home an identity. Homeowners should be able to take pride in the way their house looks. That, of course, includes its siding. Choose the perfect siding for your home and let out siding contractors take care of installation, repairs, and replacement for the lifetime of the siding!
Your Search For A Siding Contractor Near Me Is Over
As a locally owned and operated siding contractor near Portland, OR, EvoSiding takes pride in serving our community with the highest standards of professionalism and integrity. Our team of experts is dedicated to delivering excellence in every project we undertake. From the initial consultation to the final inspection, we prioritize open communication, transparency, and a strong work ethic.
At EvoSiding, customer satisfaction is at the heart of everything we do. We understand that investing in new siding is a significant decision, and we strive to exceed your expectations at every turn. Our knowledgeable team is here to answer your questions, address your concerns, and guide you through the process, ensuring your complete satisfaction from start to finish. Give us a call today to get started!
EvoSiding
Frequently Asked Questions About Siding Contractor in Portland, OR:
How do I know when it's time to replace my siding? Signs that your siding may need replacement include warping, rotting, fungal growth, fading, bubbling, or significant hail or storm damage. Regular inspections can help identify issues early.
How do I maintain my siding? Maintenance varies by material. Generally, regular inspections, cleaning, and prompt repair of any damages will prolong the life and appearance of your siding.
Does new siding improve the value of my home? Yes, new siding can enhance curb appeal, improve energy efficiency, and increase the overall value of your home.
Take a look at our Gallery page to see some of the projects we have done!
EvoSiding Is Proud To Be Locally-Owned And Operated
Portland, OR, is not just a city; it's a vibrant tapestry of natural wonders, cultural landmarks, and architectural marvels. Here, nestled between the tranquil pathways of the Portland Japanese Garden and the expansive vistas of Powell Butte Nature Park, lies EvoSiding—a locally-owned siding company that epitomizes the city's fusion of natural beauty and urban craftsmanship.
Our mission at EvoSiding goes beyond merely providing a protective exterior for homes. We strive to infuse the rich, natural aesthetics of our beloved city into every project. When you see the quiet elegance of Tryon Creek State Natural Area, you're glimpsing the essence of what EvoSiding aims to capture—a blend of resilience, beauty, and harmony with nature.
By choosing EvoSiding, you're not just opting for a siding company; you're entrusting your home to craftsmen who carry the heart and soul of Portland in every board and nail. Let us bring the iconic beauty of Portland's cherished attractions to the very walls of your residence, ensuring that your home is not just a structure but a reflection of the landscape we all adore. Directions To EvoSiding
Your Search For A Siding Contractor Near Me Is Over
In the heart of the dynamic cityscape of Portland, OR, EvoSiding emerges as a beacon of local craftsmanship and architectural dedication. Not only are we renowned for our expertise as a siding contractor, but our comprehensive suite of services, from meticulous siding installation to precision-driven siding repair, has elevated the aesthetic and functionality of homes throughout the city.
As seamlessly as the iconic Portland Transit Mall facilitates the city's energetic pulse, or the Parkrose/Sumner Transit Center Park & Ride serves as a hub for daily commuters, EvoSiding integrates into Portland's urban fabric. Our close ties to key transportation nodes, including the pivotal Portland (NW Station Way) stop, speak to more than just our accessibility; they echo our deep-rooted commitment to the community. Residents don't merely see us as a service; they recognize us as an integral part of their daily lives.
When you partner with EvoSiding, you're aligning with a brand that understands Portland's rhythm, its architectural nuances, and its drive for urban elegance. We invite you to experience the EvoSiding difference — where the synergy of urban convenience and expert craftsmanship culminate in perfect harmony. Transit Directions To EvoSiding
We Work In Many Neighborhoods Throughout Portland, OR, Including:
97220 97250 97252 97213 97216 97230 97218 97215 97233 98683 97212 97211 97232 98664 97266 97214 97236 97206 97024 98684 97227
Check Out Some Of Our Reviews From Local Customers!
"I was very pleased with the work that Jason and Eli did on my siding and door replacement. They were very knowledgeable, professional and great guys to work with. They did quality work, and priced fairly. I would highly recommend them for all your project needs."-Lori K.
"I received bids for residing my house from 8 contractors, Evo was one of the cheaper bids, were able to complete the job quickly, di a great high quality job, and most importantly did not try to pressure me into signing a contact on the spot like other contractors.
I would highly recommend Evo."-jonathan C.
"So professional and trustworthy. I would recommend them to everyone! I am enjoying my brand new home and love the way it turned out. Jason was there to answer all of my questions and made the entire process so simple. THANK YOU!!!!!"-James T.
Read More Reviews Here
Our Team Proudly Offers A Wide Range Of Siding Services, Including:
Siding Contractor
Siding Installation
Siding Repair
Commercial Siding Replacement
Commercial Siding Installation
About Portland, OR
Portland, Oregon, affectionately known as the "City of Roses," is a bustling urban oasis nestled between the snow-capped peaks of Mount Hood and the serene waters of the Willamette River. Renowned for its lush green landscapes, eco-friendly initiatives, and vibrant arts scene, Portland is a haven for both nature lovers and cultural enthusiasts.
Wander the cobbled streets of the historic Pearl District, and you'll find a delightful mix of art galleries, boutique shops, and artisan coffeehouses, echoing the city's love for the unique and handcrafted. Venture a little further, and the aroma of food trucks in neighborhoods like Hawthorne and Belmont beckons, offering a global culinary journey from delectable Korean tacos to authentic Ethiopian fare.
Portland's commitment to sustainability is evident not just in its numerous bike lanes and recycling programs but also in its urban design, with parks like Forest Park and the famed Portland Japanese Garden offering tranquility amid the urban sprawl.
But beyond its physical beauty and cultural offerings, what truly sets Portland apart is its community spirit. Whether it's the cheerful barista who remembers your coffee order or the local musicians serenading visitors at Pioneer Courthouse Square, the warmth of its people shines through.
In a nutshell, Portland, OR, is a city that seamlessly blends the traditional with the contemporary, nature with urban living, all while maintaining a distinct charm that invites visitors to explore, relax, and inevitably fall in love with the Pacific Northwest's gem.
Directions To EvoSiding