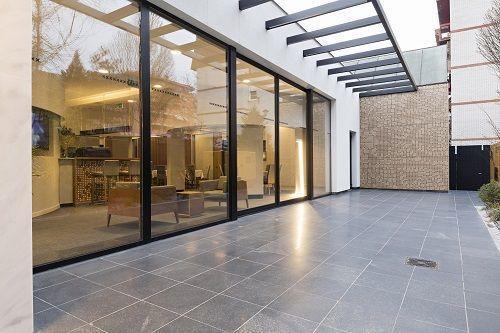 Sliding Glass Doors Are A Great Use Of Space, But What Else Is Out There?
We would like to believe that we speak for everyone when we say home is where the heart is. Let´s be honest here– no matter where we go to for work, we simply can´t wait to return home.
Some may call it growing old, but as adults, we rather prefer sleeping in our own beds as opposed to sleeping anywhere else. And why shouldn´t we love our homes?
After all, it is the one place where we feel most comfortable in the world. Thus, we believe that it is absolutely essential for everyone to seriously consider improving their homes every once a while.
Although there are many home improvement projects you can undertake, we believe that replacing sliding glass doors can provide the best bang for the buck. In the past, sliding glass doors were some of the most inefficient aspects of a home.
In fact, older sliding glass doors that faced the wrong direction didn´t serve as barriers at all. However, times have changed now. There are sliding doors that are highly energy efficient these days. Thus, when you replace your glass sliding doors, not only will you improve your home´s energy efficiency, you will also drastically improve the aesthetic appeal of your home.
When replacing your sliding glass door, there are a number of very attractive and efficient options to choose from.
French doors
It is possible for you to replace your sliding glass doors with double French doors. The cost of the beautiful French doors can differ according to style and size. They are easy to use, whereas the locks and other mechanisms on sliding glass doors can take some work and explanation. They also allow for excellent ventilation with both doors open.
However, there are a few drawbacks to installing French doors. For instance, they don´t do well with small spaces. The French doors can take up valuable living space when you keep the doors open. In addition to that, they can also restrict areas where you might otherwise place furniture and other decorative items. Even when open, they don't offer the same amount of visibility as glass doors.
It also doesn´t help that French doors don´t typically have screens; this can be a major issue if you love leaving your doors open to encourage air circulation in pleasant weather but don't want bugs or debris potentially entering your home. In any case, for homes with a theme where it makes sense, french doors can be a great alternative to a standard sliding door.
Center Swing Patio Doors
If you are not too keen on replacing your sliding glass doors with double French doors, you have the option of choosing patio doors. Center swing patio doors bear a resemblance to two French doors placed side by side. However, unlike double French doors, one side of the center swing patio doors is permanently fixed; that particular side does not open. It is only the other door that swings open back against the fixed panel. This helps save valuable wall space. It also helps that most of the center swing patio doors come with a sliding screen. And, when it comes to cost, patio doors are much cheaper than double French doors. If your budget is small, you could perhaps opt for this choice.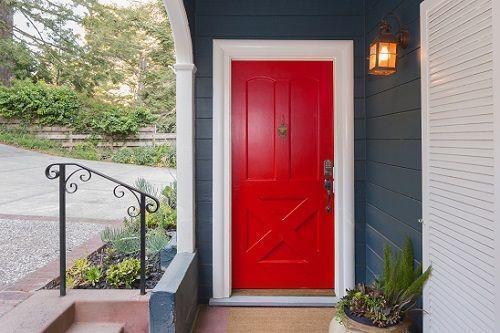 Sliding Patio Doors
Unlike sliding glass doors of the past, new sliding glass doors are usually created and manufactured with the same energy efficient standards that are available with the most cutting-edge windows. Hence, with the new sliding glass doors, you won´t have to worry about the draftiness you are sorely trying to get rid of. You can continue to enjoy the unobstructed view that you have with your current doors and easily add a screen to prevent bugs getting in.
If you are not a big fan of the appearance of sliding glass doors, you can instead opt for sliding patio doors made out of opaque or semi-opaque materials. This option offers more privacy than completely transparent glass with the same space-saving qualities. With any sliding doors, however, the track at the bottom means you will always have something to step over when you go through them.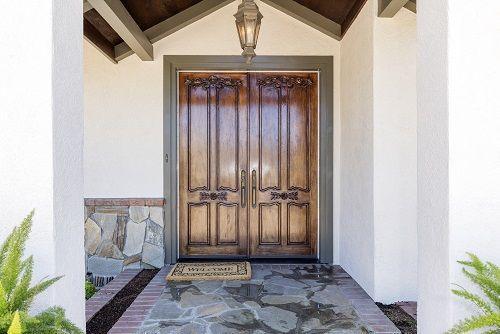 Bi-fold doors
Bi-fold doors seem to be one of the most popular and fashionable replacements for sliding doors at the moment. With the bi-fold doors, you can have an access door for everyday use and also have the option of sliding all the sections back, thereby considerably increasing the opening space, allowing you to open up the room. If you are keen on increasing the practical aspects of your home, you should get bi-fold doors.
Bi-fold doors are the same width as standard doors, but they have a hinge in the middle and a track along the bottom that allow them to fold completely out of the way. When retracted completely, they are barely noticeable, giving maximum visibility and opening up a room to make use of outdoor space.
When installed for indoor/outdoor use, as for a patio, they are often made of aluminum or UPVC and require minimum maintenance and cleaning. All the hinges and folds require multiple-point locking systems, but that makes them more secure than other types of patio doors.
Aesthetically speaking, many even consider bi-fold doors to look far superior to glass sliding doors and even French doors. Bi-fold doors can do a terrific job of bringing the outside in, making your backyard feel like a proper extension of your home.
Therefore, if you are someone who loves hosting BBQ parties and backyard gatherings, you should definitely consider replacing your sliding glass doors with bi-fold doors. Regrettably, these doors are not exactly the cheapest options around. However, if you do manage to get them, you can bet your bottom dollar that they will be the talking point of every gathering.
Before you decide on a replacement for your sliding glass door, we would also highly recommend you to talk to an experienced contractor first. Doing so will help you get a better idea of which door design is ideal for your home design and personal requirements.