You're ready to replace your roof but don't know where to start. You need a reliable roofing contractor, but with so many options, it's hard to choose.
Don't stress! This guide will walk you through the process, from identifying your needs to comparing quotes.
You'll learn how to evaluate contractors, check their credentials, and understand the importance of insurance and warranty.
By the end, you'll be able to make an informed decision with confidence.
Understanding the Importance of a Quality Roofing Contractor
Even though you're tempted to go for the cheapest bid, you can't underestimate the importance of hiring a quality roofing contractor.
Remember, your roof isn't just for show; it's a key player in protecting your home from the elements. So, don't let price be your only determining factor.
A low-cost contractor might cut corners, use subpar materials, or lack the necessary experience, and you'll end up paying more in the long run.
Instead, look at their credentials, ask for references, and check out their previous work. Make sure they're licensed and insured.
A quality roofing contractor will provide you with a long-lasting roof that's worth every penny. In the end, it's about protecting your investment and ensuring your peace of mind.
Identifying Your Roofing Needs and Preferences
You're currently in the process of identifying your roofing needs and preferences, which is a critical step in choosing the right contractor and materials for your project.
First, consider the type of roof you want. Asphalt shingles or tile? Each has its own pros and cons.
Next, think about the color and style that will complement your home's exterior. Don't overlook your budget, either. It'll guide your choices and help you avoid overspending.
You'll also need to factor in your region's weather conditions. Some materials withstand certain climates better than others.
Lastly, consider the contractor's expertise in installing your preferred roof. They should have a solid track record in handling similar projects.
Making these decisions upfront can save you time, money, and stress later on.
Researching Potential Roofing Contractors: Where to Start
Starting your research on potential roofing contractors can feel overwhelming, but it's a necessary step in ensuring you've got the best team for your roofing project. Begin by asking friends and family for recommendations. They've been through the process and can give you first-hand reviews.
Next, conduct online research. Check out various contractors' websites to get a feel for their work. Look at reviews, but be discerning. Not all reviews reflect the quality of work.
Also, check if they're licensed and insured. This protects you in case of accidents.
Lastly, ask for quotes. Don't automatically go for the cheapest. Remember, you're investing in the long-term protection of your home. It's better to pay for quality now than face costly repairs later.
Evaluating the Credibility and Reputation of Roofing Contractors
After gathering a list of potential contractors, it's important to evaluate their credibility and reputation but remember, not all glowing reviews equate to quality workmanship. Don't be swayed by just the volume of positive feedback. Instead, look deeper. Are there any patterns of complaints? How does the contractor respond to criticism?
Check their accreditations and affiliations. Are they part of recognized industry associations? This often indicates adherence to high standards.
Investigate their experience; a long business history suggests stability and reliability. Also, verify their insurance and licensing to protect yourself from possible legal issues.
Checking for Essential Certifications and Licenses
Make sure you're diligently checking for essential certifications and licenses when considering a potential roofing contractor. Don't settle for less. These documents are proof of their competency and adherence to industry standards. Look for accreditations from reputable bodies like the National Roofing Contractors Association (NRCA). They should also have a valid license issued by the state.
It's not enough to take their word for it. Verify their license number with your local licensing board. Ask to see their certificate of insurance to ensure they're covered for worker's compensation and liability. If they're hesitant, it's a red flag.
The Role of Insurance and Warranty in Your Decision
In your decision-making process, you should consider both the insurance and warranty coverage offered by the roofing contractor, for these can serve as safety nets for unforeseen damages or issues. Insurance protects you from liability if a worker gets injured on your property. It's a must-have, so don't hesitate to ask for proof.
A warranty, on the other hand, covers the workmanship and materials used. It's your guard against shoddy work or inferior products. Be sure to understand what's included and for how long. Check if it's transferrable, too, as this can be a bonus if you sell your house.
Comparing Quotes: Price Vs. Quality
When you're comparing quotes, don't just look at the price; consider the quality of the materials and workmanship, too. It's tempting to opt for the cheapest bid, but that might end up costing you more in the long run. A low quote might mean subpar materials or shoddy workmanship. Always ask about the materials they'll use, their experience, and references from past jobs.
Check if they're certified by roofing manufacturers. This typically means they've received specific training and can offer better warranties. Also, look for contractors who have a reputation for quality in the community.
You're not just buying a new roof; you're investing in your home's future. So, don't sacrifice quality to save a few bucks now. It's not worth it.
Contact EvoSiding for Professional Roofing Services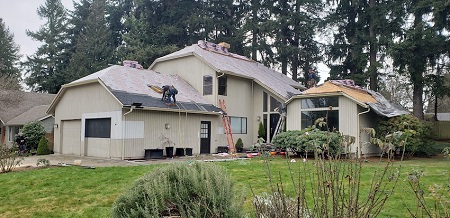 You're ready to invest in your home's future, and contacting EvoSiding for exceptional roofing services is your next step. With over 20 years of experience, EvoSiding has become a trusted name in Clark County for both residential and commercial roofing solutions.
Our dedicated team of professionals is adept at tackling the unique challenges presented by different roofing structures, ensuring that your family home or commercial establishment is in good hands.
Choosing EvoSiding means choosing a blend of expertise, quality workmanship, and exceptional customer service. We are committed to bringing the same level of dedication and craftsmanship to every project.
Contact us for more information about our high-quality roofing services.
Professional services we provide:
Residential Roofing Services
Commercial Roofing Services
Roof Replacement Services
Siding Installation
And More
Visit our About Us page for more information about our siding and roofing company.