Are you considering hiring a James Hardie siding contractor for your home?
It's important to understand what you're investing in. This article thoroughly examines the durability, longevity, and cost-effectiveness of this popular siding option.
We'll compare it to other brands, discuss its unique composition and how weather and maintenance affect its lifespan.
So, let's dive in. Is James Hardie's siding worth your hard-earned money? Let's find out.
Understanding the Basics of James Hardie Siding
You're about to delve into understanding the basics of James Hardie Siding, which is renowned for its high durability and superior quality. Manufactured by an industry leader, James Hardie, this siding is crafted from the world's highest-performance fiber cement materials.
The versatility of James Hardie Siding is another key strength. You'll find styles suitable for all home styles, from historic to contemporary designs. It's not just about looks, though. The siding is trusted by homeowners for its enduring quality and durability, guaranteeing a worthwhile investment for your property.
To top it off, the ColorPlus® Technology ensures the color of your siding lasts, resisting fading, chipping, and cracking. You'll appreciate the low maintenance and the wide range of colors available.
In essence, James Hardie Siding transforms the aesthetic of your home while offering long-lasting performance.
The Unique Composition of James Hardie Siding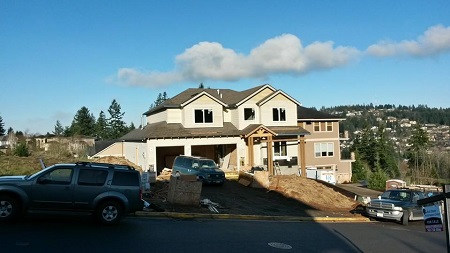 You'll find that the unique composition of James Hardie siding includes fiber cement, setting it apart from other siding options in terms of durability and resilience. This product is a cut above the rest due to its ability to combat common siding issues.
1. Weather Resistance: It's tested to withstand extreme weather conditions, from hurricanes to snowstorms.
2. Fire Protection: Unlike vinyl or wood, Hardie siding doesn't ignite when exposed to a direct flame.
3. Moisture & Rot Resistance: It's engineered to resist water damage, preventing swelling, cracking, and mold.
4. Pest Resistance: Unlike wood-based siding, Hardie siding doesn't attract critters.
Investing in James Hardie siding means investing in a product that's built to last, providing you with peace of mind and long-term savings.
Weather Resistance: A Key Feature of James Hardie Siding
Because you're concerned about weather damage, it's crucial to note that James Hardie Siding's weather resistance is a standout feature, offering top-notch protection against extreme climate conditions. Its remarkable durability can be attributed to:
The use of fiber cement, a material renowned for its ability to withstand harsh weather.
Its non-combustible nature provides resistance to fires.
The advanced paint technology used ensures it doesn't peel or crack under severe weather.
Its resistance to rot and pests can be particularly useful in rainy and humid climates.
The extensive warranty offered shows the company's confidence in the product's durability under various weather conditions.
This siding is a smart investment, ensuring your home stays protected while retaining its aesthetic appeal.
How Maintenance Affects the Lifespan of James Hardie Siding
By regularly inspecting and maintaining your James Hardie siding, you're not only ensuring its curb appeal but also significantly extending its lifespan. Over time, elements like wind, rain, and sun can wear down the siding's protective coating. However, with prompt attention to any signs of wear or damage, you can prevent further deterioration.
It's also important to ensure the siding isn't constantly exposed to moisture, as this can lead to mold growth or rot. Regular cleaning is another vital aspect of maintenance. Dirt and debris can slowly damage the surface, reducing its durability.
Comparing James Hardie Siding to Other Siding Brands
You've seen how James Hardie siding holds up with diligent maintenance, but let's compare it to a few other brands and see if it's truly the best option. We'll tackle this analysis by focusing on the most important factors that you should consider:
Durability: James Hardie's fiber cement siding is known for its resistance to weather, insects, and fire.
Warranty: It offers a 30-year, non-prorated warranty, whereas other brands might not be as generous.
Design options: While some brands limit your choices, Hardie provides a wide range of colors and a variety of styles.
Maintenance: Unlike wood or vinyl, James Hardie siding requires minimal upkeep.
Environmental impact: Hardie's manufacturing process is more sustainable than those of other brands.
Investment Analysis: the Cost Versus Benefit of James Hardie Siding
In your investment analysis, consider the initial cost of James Hardie siding, but also take into account the long-term savings from its durability and low maintenance.
Sure, it's pricier upfront than vinyl or wood siding, but let's delve deeper. James Hardie siding's resilience against weathering and pests means fewer repairs and replacements. You're saving yourself from future headaches.
It's also fire-resistant, which could lower your homeowner's insurance. Its color stays vibrant longer, so you'll save on repainting costs, too. In contrast, cheaper siding options often have hidden costs: frequent maintenance, shorter lifespan, and less energy efficiency. Over time, these costs add up.
EvoSiding Professionally Installs James Hardie Siding
When you choose EvoSiding, you're not only getting a professional installation of James Hardie siding but also a guarantee of quality craftsmanship and outstanding customer service. EvoSiding takes pride in providing top-quality siding services, utilizing materials known for their durability, versatility, and energy efficiency.
Consider the following:
EvoSiding's team of professionals is equipped to handle projects of any scale, ensuring a seamless installation process.
With James Hardie siding, you're eliminating the common issues of fading and warping associated with vinyl siding.
Your residential or commercial property will benefit from superior protection and energy efficiency.
With a range of James Hardie siding options, EvoSiding can be tailored to your specific needs and preferences.
EvoSiding has a dedication to customer satisfaction, working closely with clients to bring their vision to life.
Choosing EvoSiding means investing in top-tier service, exceptional quality, and long-lasting results. Contact us today.
We offer a wide range of services:
Residential and Commercial Siding
Siding Installation
Siding Repair
Metal Siding, Fiber Cement Siding, Cedar Siding, and Other Wood Siding Options
Complete Roof Replacement
Visit our About Us page for more information about our siding company.